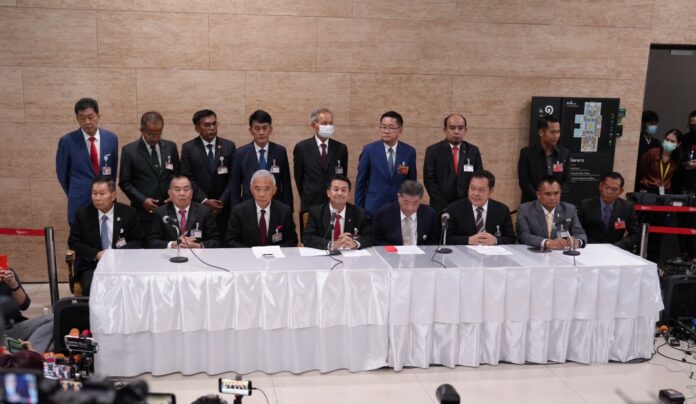 Thailand –
The Pheu Thai Party has announced a new coalition with PM candidate Srettha Thavisin.
Our previous stories:
The Pheu Thai Party will now establish a new coalition without the Move Forward Party, rendering the memorandum of understanding between the previous coalition null and void.
Now for the update:
The Pheu Thai Party currently has 141 members of parliament from the Pheu Thai Party and 71 members of parliament from the Bhumjaithai Party which is in total 212 members of parliament.
The Pheu Thai Party leader Cholnan Srikaew announced in the press conference at Parliament on Wednesday (August 9th) that six other parties now joining are the Prachachart Party (9 MPs), the Seri Ruam Thai Party (1 MP), the Chart Pattana Kla Party (2 MPs), the Pheu Tai Ruam Palang Party (2 MPs), the Palang Sangkhom Mai Party (1 MP) and the Party of Thai Counties (1 MP).
With six more coalition parties, the total number of members of parliament in the new coalition formed by the Pheu Thai Party is 228.
More parties are expected to continue to join the coalition to attempt to form a new Thai government, but the Move Forward Party, which won the most seats and votes in the last election, will not be one of them as due to their policy to amend the Lese Majeste law they were opposed at every step to form a new government and have been forced to the opposition.
Related Article/Learn More:
Under the current constitution, the 250 senators appointed by the now-defunct National Council for Peace and Order (NCPO) are allowed to join MPs in electing a prime minister in Parliament.
This article originally appeared on our sister website The Pattaya News.