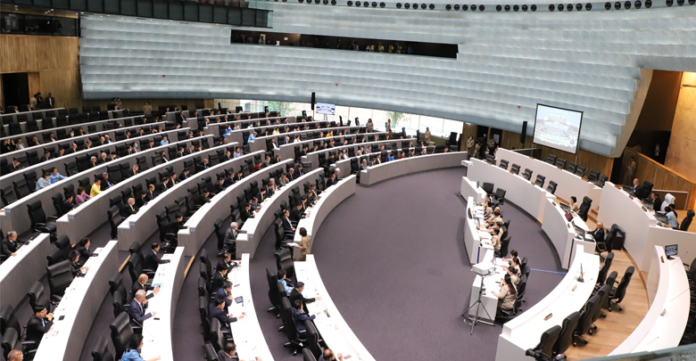 PRESS RELEASE: 
Friday's (4 Aug) parliamentary sitting was abruptly adjourned without discussing an agenda regarding the senate's power to endorse prime ministers.
The sitting started at 10:30 AM, an hour later than scheduled, as only 34 out of 374 senators were present, thereby bringing the total number of parliamentary members at the time below quorum.
The main agenda was initially a motion from the Move Forward Party on the amendment of Section 272 of the Constitution, which grants senators the authority to endorse prime ministerial candidates. However, the motion was not brought up in Friday's sitting.
Instead, parliament received an urgent motion from Move Forward Party MP Rangsiman Rome, requesting a review of last month's decision to block the repeated nomination of the party's Prime Ministerial candidate, Pita Limjaroenrat.
House Speaker Wan Muhamad Noor Matha deflected the motion, stating that it was a repeated motion which could not be discussed since the issue is under investigation by the Constitutional Court. Some parliamentary members, particularly senators, strongly opposed the motion, leading the House Speaker to call off the meeting.
The Constitutional Court is reviewing a petition filed by the Ombudsman, who is seeking a ruling on whether parliament's resolution to bar the renomination of Pita is constitutional. The court is expected to announce whether it will take the petition into consideration on August 16, following a delay announced earlier this week.