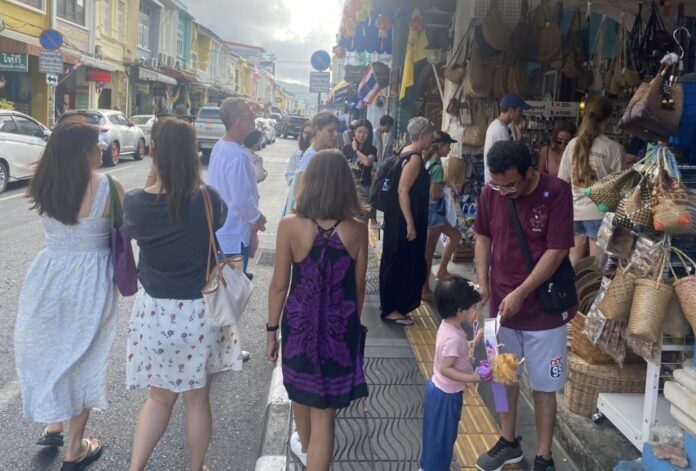 National —
The Thai tourism sector is worried about the formation of the new government that might consist of parties that the majority don't like.
Sa-nga Ruengwattanakul, chairman of the Khao San Road Traders' Association, revealed that during the 6-day long weekend, the atmosphere on Bangkok's Khao San Road was quiet as many Thai tourists had returned to their home provinces.
While the area's nightlife entertainment venues still hosted foreign tourists, the closure of these venues on religious days had a minimal impact, as most visitors understood and chose to visit other places during daytime hours instead.
As the country entered the low season, the overall ambiance was calm, and Sa-nga expected to see as much as 30% decrease in tourist numbers compared to the first quarter of 2023. Sa-nga highlighted that such a decline was usual for the low season, but expressed concern about the unusual absence of tourists from countries like China, primarily blamed on strict visa rules and a long visa process currently.
Regarding the formation of the new Thai government, Sa-nga stated that he wished there will be no protests no matter what the new government looks like. This is because when people take to the streets in large numbers, foreign embassies will issue travel advisories cautioning tourists from visiting that particular country. This, in turn, greatly affects tourists' confidence in traveling to that country, he said.
Meanwhile, Weerawit Kruesombat, President of the Patong Entertainment Club in Phuket, shared a similar view stating that if the new government is composed of parties that the public does not favor, it may lead to intense protests, even to the extent of airport closures and public transport problems, as seen in the past.
Weerawit said: "I hope that the country will see a new government soon. If parties in the government deviate too much from the current 8-party coalition, I fear that many people may not accept it. In the worst-case scenario, it could lead to a coup d'état, which would have a great detrimental impact on the economy, something we definitely do not want to happen."
In a message to the new government, Weerawit said he wants the government to put forth their best efforts into solving the country's economy, assisting people in meeting their ends meet, and alleviating the costs of living, such as electricity, fuel, and daily products.
The original version of this article appeared on our sister website, The Pattaya News, owned by our parent company TPN media.