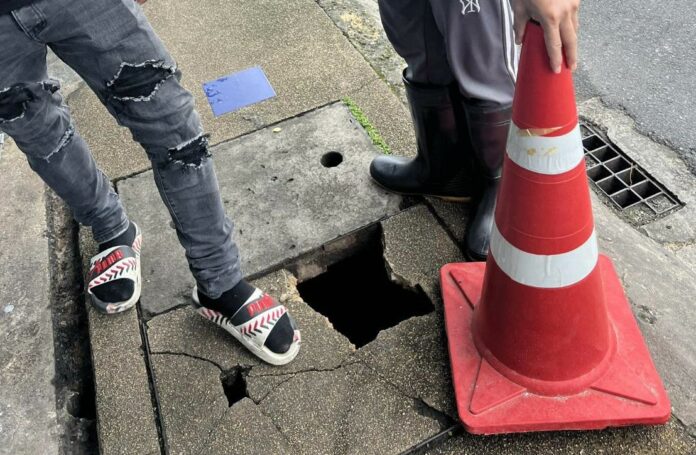 Phuket –
A pregnant woman was injured after her leg got stuck in a water drain in Phuket Town.
The Newshawk Phuket Facebook page received a complaint from a pedestrian on Tuesday (July 25th). According to the complaint, a pregnant Thai woman whose name was withheld was walking with her younger brother on the footpath of the Patipat Road in Talad Nuea, Phuket Town. The pregnant woman injured her right leg after it got stuck in a broken water drain in front of a famous noodle restaurant.
Staff at the noodle shop told the local news that they had used to put a traffic cone on the broken water drain to warn pedestrians before but police asked them to remove it. Staff at the noodle shop said many pedestrians have fallen into this hole which is owned by the city and not the shop.
The woman is reportedly asking for the appropriate parties to take responsibility for her injuries as well as to repair the drain to avoid any injuries to anyone else.
So far, she has not received any official response from Phuket Town authorities.