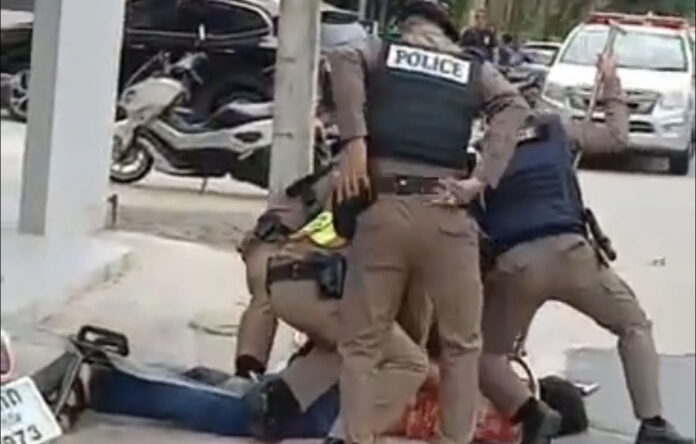 Phuket –
An intoxicated Russian man was stopped by Phuket police with a taser (electric gun) after he was found to be damaging multiple cars in Wichit.
The Wichit Police told the Phuket Express that they were notified from local residents that there was a foreign man damaging cars in front of a condominium near a department store in Wichit on Friday afternoon (July 21st).
A team of about 10 police led by Lieutenant Colonel Anurak Parinyasathirakun quickly arrived at the scene four minutes after the original call. The foreign man was holding a bottle opener and uncooperative, threatening police officers and unable to communicate properly due to language barriers and intoxication. Police used a taser and a wooden club to stop the foreign man, knocking him to the ground. The unidentified foreigner was taken to a local hospital for a physical and psychiatric evaluation.
The Wichit Police Chief Colonel Chatree Choookaew told the Phuket Express that the foreign man is a 26 year-old Russian, but did not name him. Four cars were damaged by the Russian man and all the car owners filed police reports against the Russian man for the cost of damages.
The reason for the bewildering behavior of the Russian man was still unknown, stated police, who would let him sober up before questioning him with the assistance of a translator and presenting him with a bill for the vehicle damages.
It was also not immediately known if the man would be referred to Thai Immigration for possible action such as deportation and/or blacklisting.