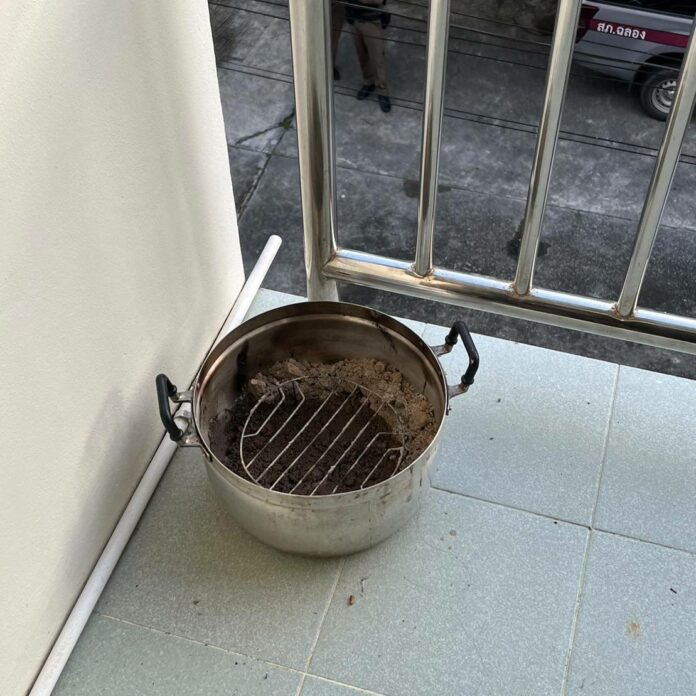 Phuket —
A South Korean woman suffocated herself and her two cats with smoke from coal, causing them all to perish inside the bathroom of their accommodation in Phuket.
Police officers at the Chalong police station received a report about the deceased victim about 8 AM on Saturday, July 16th. They rushed to her house in the Rawai sub-district of Mueang district following the notification.
At the scene of the incident, police found the body of a woman, whose name is withheld by The Pattaya News pending her family's permission, lying on her back inside a bathroom on the second floor. The 43-year-old woman was reported to be a South Korean national. Her name was withheld due to the sensitivity of the situation.
Upon examination, police found blood flowing from her nose. Two cats were also found lying dead beside her along with an iron pot that the police believed was used by the woman to store burning coal in order to suffocate herself. No injuries or signs of foul play were found at the scene. The woman was transferred to a local hospital to identify the exact cause of her death.
Based on an interview with the victim's South Korean boyfriend, whose name is withheld, the deceased had an argument with him, prior to the incident. The quarrel was about his lack of time for her because he worked in a different province.
Before deciding to take her life, the victim bid farewell to her boyfriend via a phone call, saying that she wanted to die. Subsequently, her boyfriend hurriedly returned to the accommodation but was too late.
The victim's body remains at a hospital for funeral arrangements. The police are investigating the incident.
If you or someone you know is feeling depressed please reach out for help. The Pattaya News suggests the Samaritans of Thailand which can be reached here: