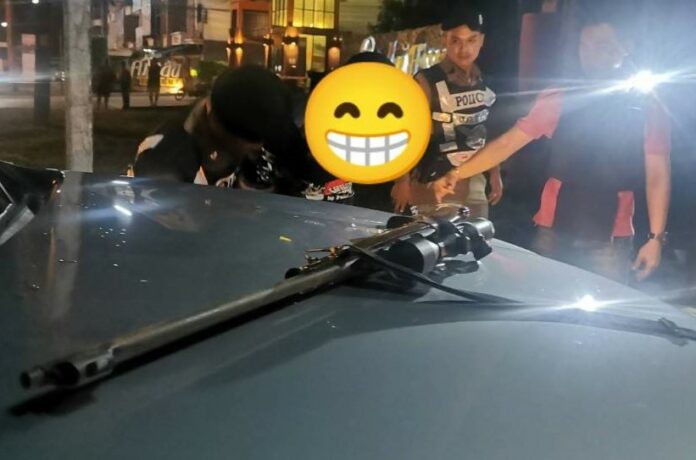 Thalang –
An intoxicated man was arrested after he opened fire with a firearm in public which scared both foreign and Thai residents.
Pol. Col. Pisit Chuenpeth, superintendent of the Thalang Police, told the Phuket Express that they were notified of the incident around 10:18 P.M. on Sunday night (July 9th) behind a housing estate in Village Number 3 in Sri Soonthorn. Law Enforcement officers and the Phuket Express quickly arrived at the scene.
Police stopped the suspect's pickup truck which was coming out from the housing estate. The intoxicated driver was identified by police only as Mr. Muan, age unknown, who was found with a registered CZ .22 rifle and 55 bullets.
An unidentified female foreigner was found crying in fear and asked the police to take her child to a safe place as she lives next to the suspect's house and was afraid of further incidents.
Mr. Muan was taken to the Thalang Police Station. He told Col. Piset that residents at the housing estate always dumped garbage at the wall next to his house which angered and annoyed him. He fired about four gunshots into the air and threw rocks onto nearby roofs due to his anger.
Mr. Muan is facing charges of carrying a gun in public without proper reason and drunk driving.
It is unclear if police would look into the root cause of the garbage dispute between neighbors.