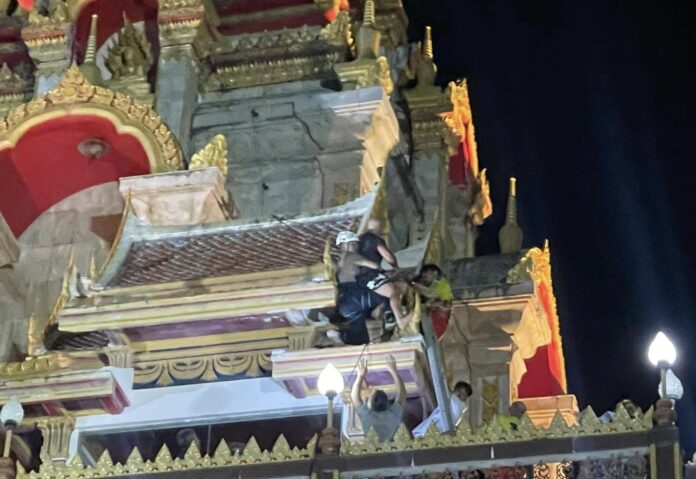 Phuket –
A 35 year-old Russian man died after he jumped from a pagoda despite efforts to save him at a famous Temple in Chalong. His friends told Thai media that he had drank some water that was possibly mixed with unknown substances before he started to hallucinate.
A video of the incident can be found here but may disturb sensitive viewers. Viewer discretion is advised.
Our previous story:
An unidentified foreign man climbed Phuket's most famous temple this evening. He was threatening to jump from a pagoda for several hours and finally jumped after trying to fight rescuers atop the temple.
Now for the update:
After four hours up on a high pagoda the 35-year-old Russian man jumped. He fell on to an air mattress and suffered some injuries as a consequence. The Russian man went into shock after the incident. He was provided with CPR and intubation but he was finally pronounced dead at a local hospital.
The Chalong Mayor, Mrs. Tanaphon Ongsantiparb, told the Phuket Express that hey talked with the Russian's friends. The friends claimed the Russian man drank some water that was mixed with an unknown substance before he started to hallucinate.
The incident remains under investigation as of press time.
If you or someone you know is feeling depressed please reach out for help. The Pattaya News suggests the Samaritans of Thailand which can be reached here:
https://www.facebook.com/Samaritans.Thailand/