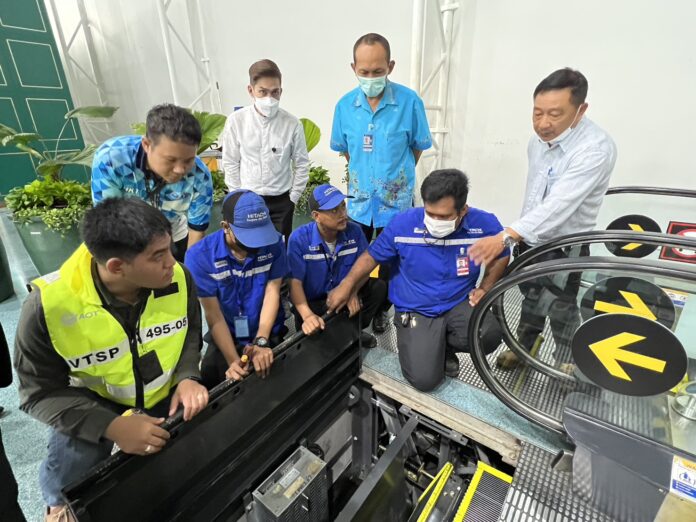 Airports of Thailand (AOT) has established a committee to investigate a recent incident involving a moving walkway at one of its airports, which resulted in a severe injury to a passenger's leg.
The committee, made up of representatives from the Ministry of Transport, the Engineering Institute of Thailand (EIT), the Engineers Council, Siam Hitachi Company, and the victim's family members, has been tasked with completing the investigation within 15 days.
The incident took place on June 29 when the passenger fell on one of the airport's travelators, severely injuring her left leg. In response, AOT Director Kerati Kijmanawat announced that the committee would evaluate the possibility of replacing moving walkways that are over 20 to 25 years old at all six AOT airports, namely Don Mueang, Suvarnabhumi, Phuket, Chiang Mai, Hat Yai, and Mae Fah Luang-Chiang Rai.
In the wake of the incident, all 20 moving walkways at Don Mueang Airport have been temporarily suspended from service. The walkways will gradually resume operation following a thorough inspection and necessary upgrades, a process estimated to take around one month.
Acknowledging that some of the travelators are over 27 years old, Director Kerati emphasized that maintenance had been conducted on them on a regular basis. However, he noted that the committee would consider replacing those older than 15-20 years and explore the adoption of new technologies, such as sensors, to enhance safety measures.
The superintendent of the Don Mueang police, Pol Col Adirek Tongkeamkeaw, meanwhile reported that investigators are currently questioning individuals involved in the case while awaiting the results of forensic tests. The airport's CCTV footage is also being reviewed to determine if the accident was caused by negligence.
The original article appeared on The Thai Government PR Department NNT.