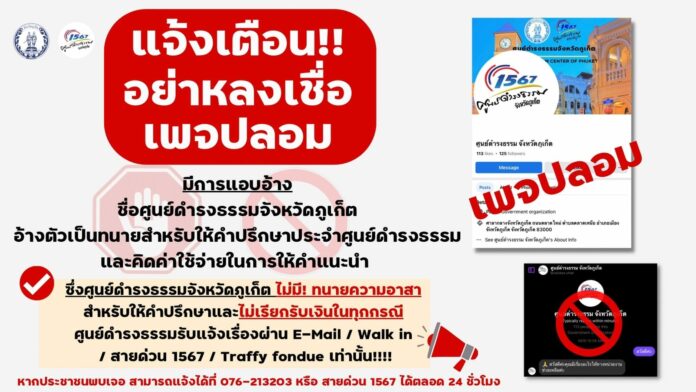 Phuket –
A Phuket official has warned of a fake Phuket Ombudsman Facebook page which claims to be a lawyer providing legal advice.
Officials issued a warning on Monday (June 27th). They state that there is a fake Facebook page which has claimed to be the Phuket Ombudsman (Damrong Dhamma Centre). An admin of the page claimed to be a lawyer who is providing advice but for money.
The Phuket Express noted that the Ombudsman Office or the Damrong Dhamma Centre are government offices which are being operated under the Ministry of Interior. This office provides FREE assistance to people who file complaints about anything where they think they did not receive justice. Every province has such an office.
The Phuket Ombudsman Office (Damrong Dhamma Centre) has confirmed that they do not provide help via any Facebook page. They do not have any volunteer lawyers at the office as well as no policy to request money or anything in return from people who file complaints.
Anyone who wants to file complaints please contact:
E-Mail : [email protected] or
Walk in to the Phuket Administration Center (New Provincial Hall) on the Tha Kreang Road in Talad Nuea, Phuket Town or
Call: 076-213203 | Hotline 1567 24-hours a day