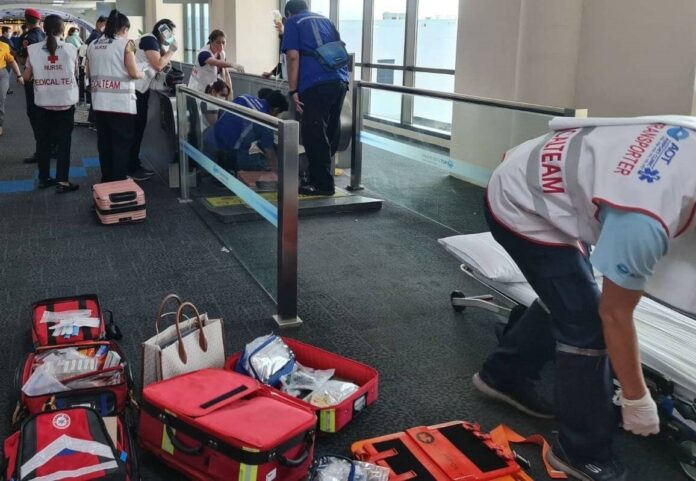 Bangkok –
A female passenger at the Don Mueang International Airport has lost her lower leg after she fell down and got stuck in a moving walkway this morning.
The Don Mueang International Airport told associated Thai media that on early Thursday morning (June 29th), CCTV footage nearby shows that the unidentified woman was on a moving walkway at the South Corridor between Pier 4 – Pier 5 in Domestic Terminal 2. The woman was heading to Nakhon Si Thammarat in southern Thailand.
According to the CCTV footage, a piece of luggage appeared to hit her left leg causing her to fall down. Her leg got sucked into the moving walkway after the fall, causing her to immediately lose one her lower left leg in front of shocked passengers and nearby airport staff. She was rushed to a nearby hospital for urgent medical assistance but rescue teams on location confirmed that her left leg had been amputated from the knee as a result of the accident.
Her name, age, and nationality were withheld by the Don Mueang Airport, citing her privacy at this sensitive time.
The moving walkway has now been temporarily closed while engineer teams are checking the equipment to find the exact cause of the accident. The Don Mueang International Airport has already openly apologized for the incident and says that financial compensation will be fully paid to the injured party.
The original version of this article appeared on our sister website, The TPN National News, owned by our parent company TPN media.