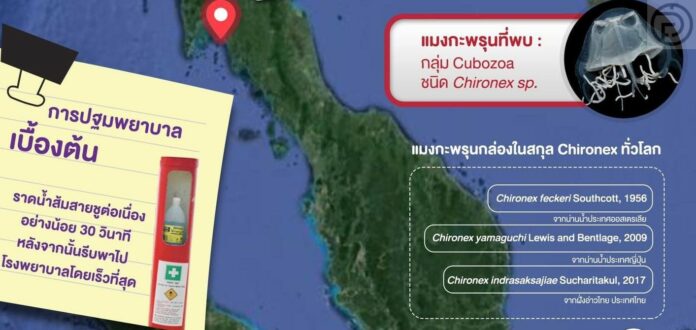 Krabi –
The Department of Marine and Coastal Resources (DMCR) have warned of poisonous jelly fish near a pier in Ao Nang.
The DMCR officers told the Phuket Express that this week they found dangerous Box Jellyfish, also known as Sea Wasps, near the Ao Nam Mao Pier in Ao Nang.
Officials advised those stung to please use vinegar to wash the affected area of skin for at least 30 seconds and not to wash the affected skin with drinking water or alcohol to prevent any allergic reactions.
Poisonous jellyfish in southern Thai seas are a hazard at different times of the year as seen in our similar coverage below:
Many foreign swimmers at Phuket beaches have been injured by poisonous jellyfish say Thai authorities.
Phuket lifeguards have warned swimmers of Portuguese man-of-war, a type of poisonous jelly fish.