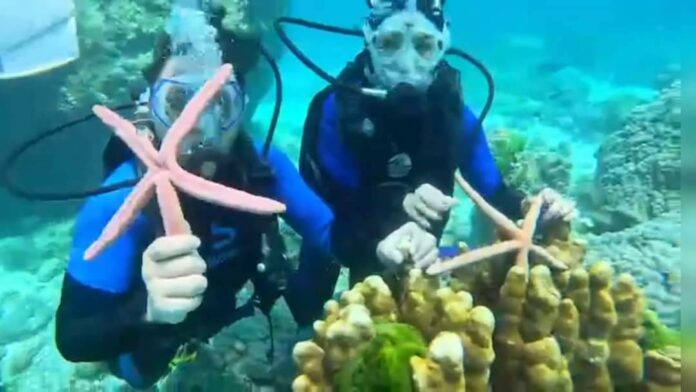 Phuket –
Concern has been rising after photos of divers touching starfish under the sea in Phuket went viral on Thai social media.
The issue has been brought to light by the Facebook page 'Monsoon Garbage Thailand' earlier this week.
They posted photos with a message that concluded, "Illegal tour companies with illegal tour guides are around Racha Island (in the Chalong area) . This particular incident was on Thursday (June 22nd) in the afternoon. We received a video clip from a Good Samaritan. Divers in the video clip appeared to pick up starfish and took photos. Some divers even climbed on coral reefs."
They have called for relevant authorities to investigate the incident which took place over the past several days.
The situation drew the personal attention of the Thai Caretaker Minister of Natural Resources and the Environment himself, Varawut Silpa-archa, who instructed relevant authorities to get involved and investigate the incident that took place on Koh Racha Yai.
The tour company was found to be legal, however, was newly formed and on its first ever tour, the Jinyang Holiday Group Co Ltd. They formally apologized for the incident and stated it was a valuable lesson for their new company. It was not clear if the company would face legal action and were described as cooperative with authorities.
As for the tourists, three Chinese Tourists were identified as the individuals in the viral video touching and holding sea life, although as of press time only two have turned themselves into police. Those two were identified as Qin Sanyang and Zhang Wen.
Under marine coastal laws meant to protect the environment, the two Chinese tourists face punishment of up to two years in jail or a fine of up to B200,000, or both, notes TPN media.
As for the third tourist, authorities are reportedly still searching for this unidentified individual.