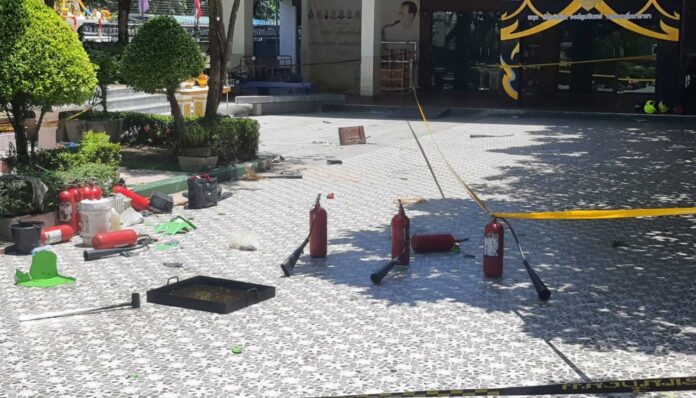 Bangkok —
A fire extinguisher used during a school fire drill exploded and killed one schoolboy and injured five others at a public secondary school in Bangkok's Dusit district on Friday morning, June 23rd.
The incident happened in the compound of Rajavinit Mathayom School on Phitsanulok Road near the Royal Turf Club of Thailand in Nang Loeng area.
The carbon dioxide fire extinguisher suddenly exploded at around 11:22 AM during a fire drill, resulting in the death of a schoolboy and injuries to five other students.
Associated Thai media reported that the deceased was a Mathayom Suksa 5 (Grade 11) student who participated in the drill. Due to his age, TPN media has withheld his name.
According to a forensic team, the fire extinguisher in question had exploded, causing the cylinder to rupture.
The forensic team told Associated Thai media that the cylinder was a reusable one without a safety valve installed. Preliminary analysis suggests that the cylinder was likely filled with gas and left exposed to the sun for an extended period, causing an increase in temperature. As a result, the internal pressure built up and led to the explosion due to the absence of a safety valve, Thai media reported.
Forensic officers are examining the site to gather more evidence. This is a developing story and as more information is released by relevant authorities TPN media will provide further updates as necessary.
The original version of this article appeared on our sister website, The Pattaya News, owned by our parent company TPN media.