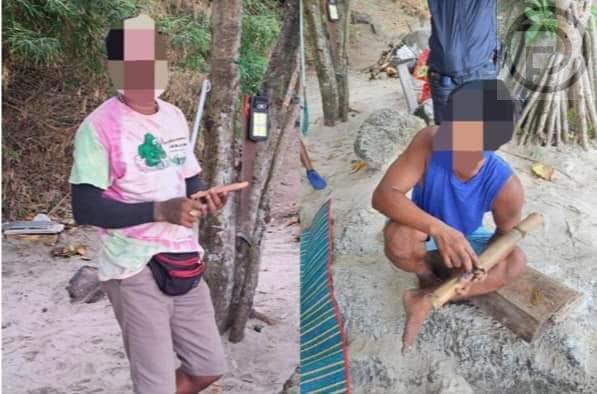 Phuket –
Two beach vendors have been warned by Phuket Police after two Thai tourists who visited Paradise Beach admitted to police that they agreed to smoke cannabis given to them by beach vendors.
Our previous story:
The two tourists admitted to police that they both agreed to smoke cannabis by themselves, NOT being persuaded or forced by those vendors.
Now for the update:
The Karon Police Chief Lieutenant Colonel Chana Sutthimart told the Phuket Express on Tuesday (June 20th) that the two male beach vendors identified as Mr. Sophon, 44, and Mr. Komsan, 42, were taken to the Karon Police Station. They were informed that smoking cannabis in public can become a public nuisance. If anyone reports them, they could face legal action and be imprisoned for up to three months or fined up to 25,000 baht or both.
They have both promised to the Karon Police that they will not smoke cannabis on the beach or in public in the future.