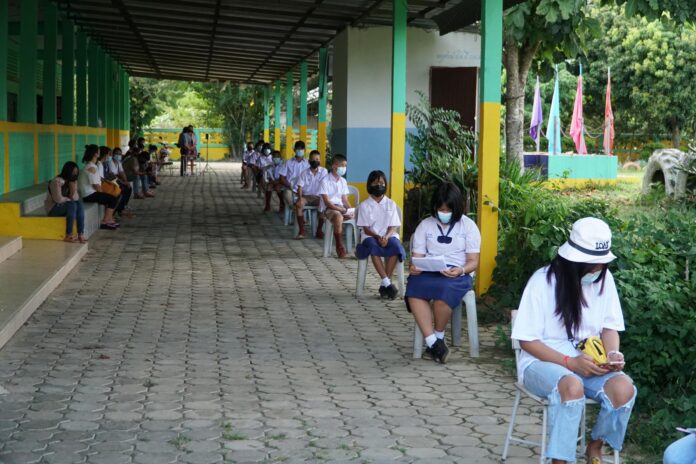 PRESS RELEASE:
BANGKOK, 31 May 2023 – At a seminar hosted by the Ministry of Foreign Affairs, the Ministry of Interior, UNHCR and UNICEF in Bangkok, officials from the Government, civil society organizations and UN agencies came together to strengthen their efforts to end childhood statelessness in Thailand. The seminar, which falls under UNHCR-UNICEF Joint Strategy for Addressing Childhood Statelessness, aims to review progress made in Thailand while highlighting challenges and identifying solutions and areas for improved collaboration among key actors.
Thailand has made progress in legislation and policy for addressing statelessness during the past decades. Yet, "Resolving childhood statelessness in Thailand remains a work in progress," said UNHCR Representative, Giuseppe de Vincentiis. "We welcome the RTG's commitment to ending childhood statelessness. UNHCR will continue to support the Government and stakeholders to build on progress made and consider making new pledges to address statelessness at this year's Global Refugee Forum."
"Every child has a right to a nationality or a legal status," said Kyungsun Kim, UNICEF Representative for Thailand. "This is a fundamental right and the first gate that enables children to enjoy other basic rights including the right to survival, education, protection and meaningful participation. Without a nationality and or a legal status, it is extremely difficult for a child to live a quality life and secure a bright future."
The Royal Thai Government has endorsed UNHCR's #IBelong campaign to end statelessness by 2024 and pledged to provide pathway to obtaining legal status or nationality for stateless persons, including children, and to enhance access to education, social services and protection for them. Since 2015, over 63,000 registered stateless persons have acquired Thai nationality. 
Under Thai law, any child born in Thailand can register at birth and obtain a birth certificate as well as attend schools and access to health services even if they don't have a legal status or any documents. 
Eksiri Pintaruji , Director General of Department of International Organizations, Ministry of the Foreign Affairs said: "This milestone event not only provides an opportunity to reflect on the progress made in addressing childhood statelessness, but will help us refine and accelerate our efforts to comprehensively resolve statelessness amongst children in Thailand. The Royal Thai Government is using this opportunity to help redouble efforts, together with the UN agencies and non-governmental organizations, to address childhood statelessness in Thailand."  
About UNHCR 
UNHCR, the UN Refugee Agency, is mandated to lead and coordinate international action to protect people forced to flee their homes because of conflict and persecution. In addition, the agency is mandated by the UN General Assembly to identify and protect stateless 
people and to prevent and reduce statelessness. Its purpose is to safeguard the rights and well-being of forcibly displaced and stateless people.  
In Thailand, UNHCR works closely with The Royal Thai Government to support efforts to prevent and reduce statelessness. The work includes advocacy and technical support for law and policy reform, capacity building initiatives and supporting the RTG to implement the pledges it made as part of the global #IBelong campaign to end statelessness.
In addition, UNHCR has been working with an NGO partner Adventist Development and Relief Agency (ADRA) since 2015, to support the Thai authorities in implementing civil registration and nationality procedures by providing legal assistance to stateless persons and raising awareness amongst affected communities in Chiang Rai's Mae Fah Luang, Mae Chan, and Mae Sai districts. The project has engaged government officials at the district level, school principals, community leaders as well as local civil society, who have also been working on the issue of statelessness. Since 2015, over 50,000 stateless people received legal assistance from UNHCR and its partner ADRA.  
About UNICEF 
UNICEF is mandated to advocate for the protection of children's rights, to help meet their basic needs, and to expand their opportunities to reach their full potential. Its commitment is to ensure special protection for the most disadvantaged children – victims of war, disasters, extreme poverty, all forms of violence and exploitation, and those with disabilities.
In Thailand, UNICEF and Law Faculty, Chiangmai University with the support from the European Union conducted a study "Invisible Life: 48 years of the situation of stateless children in Thailand (1972-2020)," which provides an overview and analysis of the obstacles to obtaining legal status and nationality for stateless children in Thailand. The results showed that Thailand needs to focus on translating policies into practice in order to eradicate childhood statelessness. This includes putting in place clear procedures, steps and guidelines as well as building staff capacity and allocating more financial and human resources at the operational level. 
In 2022, UNICEF in partnership with Terre Des Hommes Germany and the Stateless Children Protection Network launched mobile civil registration units where volunteers travelled to schools in northern Thailand to facilitate registration process for stateless children and children without a legal status. To date, the mobile unit has reached 22,000 G-code children.
###
FOR MORE INFORMATION PLEASE CONTACT:
Morgane Roussel-Hemery, Associate External Relations Officer
UNHCR Thailand 
+66 81 140 4353 
Nattha Keenapan, Communication Officer
UNICEF Thailand
086 616 7555
-=-=-=-=-=-=-=–=-=-=-=-=-=-=-=
Don't forget to subscribe to our newsletter and get all our news delivered to you in one spam-free daily e-mail Click here! OR, enter your e-mail below!
Help support The Phuket Express in 2023!