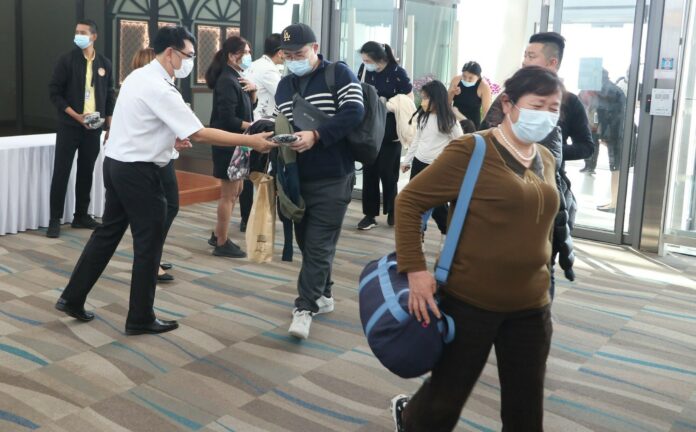 Thailand-
The number of Chinese tour groups in Thailand is still low which was only ten percent of the total that had visited before Covid-19 in 2019, said prominent Thai tourism associations today, May 26th, 2023.
The Secretary of the Association of Thai Travel Agents (ATTA) Mr. Adit Chairattananon told the associated Thai press, "In 2019 there were 11 million Chinese tourists that visited Thailand. Of this number, 600,000 of them were in tour groups via ATTA.
When comparing the first five months of this year there were about one million Chinese tourists who visited Thailand. Of this number, only 100,000 of them were in group tours via ATTA which was only about 10 percent of the number of tour groups in 2019," Mr. Adit explained.
"We are worried about tourism in the remaining seven months of this year, especially Chinese tourists. We need four million more of them by the end of this year to reach our 2023 target of five million Chinese tourists," Mr. Adit added.
"Visa services to enter Thailand from China currently take a long time which might effect tourists in the 'Intensive Tour Groups' (See below) and the 'Last-Minute' package tours. We need quicker E- visa services which would only take about three days." Mr. Adit explained.
"More Intensive tour groups are visiting Thailand for the rest of this year. However, we have recently lost a large intensive tour group, about 10,000 Chinese tourists, after they changed their decision to other countries instead of Thailand due to long visa processing times." Mr. Adit concluded.
TPN media notes that intensive tour groups is tourism industry slang for larger scale groups that visit multiple locations in short periods of time, often only a few days, at a frenetic and intense pace.
Recently, Thailand strengthened visa policies and required each individual member of a tour group to independently file a visa well in advance. Previously, tour companies could file on behalf of the entire group on short notice, which dramatically helped tourism for intensive tours and last minute travelers. This was done due to a Thai crackdown on criminal activity and overstaying, however, has also dramatically impacted the still recovering tourism industry.
Many tourism operators, as a result, feel that a middle ground must be met between allowing more leniancy for tourists in applying for visas from China while still stopping a small minority of Chinese visitors from overstaying or engaging in criminal activity.
The original version of this article appeared on our sister website, The TPN National News, owned by our parent company TPN media.
*****************************
Don't forget to subscribe to our newsletter and get all our news delivered to you in one spam-free daily e-mail Click here! OR, enter your e-mail below!
Help support The Phuket Express in 2023!