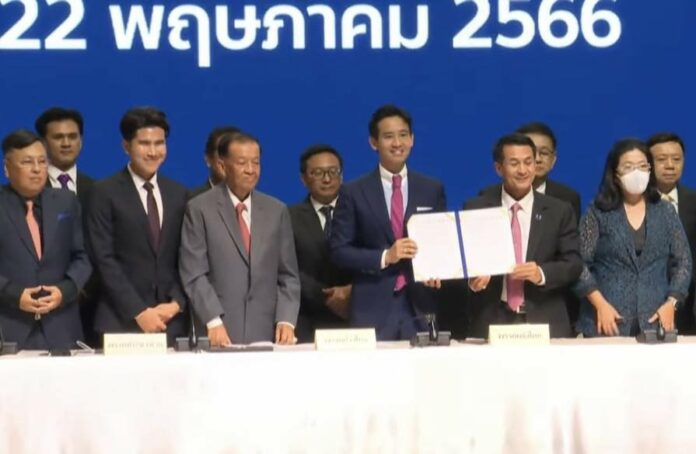 National —
The 8-party coalition partners led by the Move Forward party (MFP) have officially signed a memorandum of understanding (MOU) today, May 22nd, to mark the formation of Thailand's new government.
The signing took place today at 4:30 PM at Conrad Hotel in Bangkok.
To symbolize the shift from a military-backed government to a fully democratic one, the coalition opted for today, May 22nd, which coincides with the 9th anniversary of the 2014 coup led by caretaker Prime Minister General Prayut Chan-o-cha, to sign an MOU to form a new government in order to mark a new era, Pita Limjaroenrat, leader and prime ministerial candidate for the MFP, said.
The coalition currently consist of 8 parties with 313 MPs. The followings are some of the details of the MOU:
Rewrite the constitution through an elected charter drafting committee.
Ensure justice for individuals who have voiced their political opinions through parliamentary channels.
Pass the marriage equality bill while respecting the beliefs of individuals whose religions do not endorse it.
Reform the military, police, and justice system in accordance with democratic principles.
Shift from compulsory military conscription to voluntary.
Encourage enduring peaceful resolutions to challenges in the southern region through fostering human rights and respect in a diverse society, while fostering collaboration among all involved parties.
Implement decentralization of power in terms of missions and budget allocation.
Enhance transparency and fight corruption by disclosing all non-confidential government information across departments.
Revitalize the economy to reduce inequality, increase income, and promote fair economic growth.
Remove bureaucratic barriers for businesses and improve financial access for small and medium enterprises (SMEs).
Promote fair trade and eliminate monopolistic practices in all industries, with a focus on the alcohol sector.
Reform landholding policies to resolve land disputes, especially regarding government-owned land, and provide benefits to landless farmers.
Lower electricity prices and improve the process of granting electricity generation contracts.
Implement zero-based budgeting to ensure justified expenses for each new budget period.
Establish a comprehensive social support network for people of all ages, based on the country's budget and fiscal strength.
Take immediate action to address drug problems in the country.
Re-regulate cannabis as a narcotic and introduce penalties for its misuse.
Support agricultural and livestock sectors by reducing production costs, promoting market activities, improving technology and water access, and encouraging value-added product development.
Address fisheries-related issues through necessary legal amendments, removing obstacles, and facilitating sector renovation and development.
Safeguard workers' rights in all occupations, ensuring fair employment conditions and wages that match the cost of living and economic growth.
Reform the education system to enhance quality, reduce inequality, and foster lifelong learning.
Collaborate regionally to combat air pollution problems.
Strengthen Thailand's position within ASEAN and maintain a balanced political stance vis-à-vis major global powers.
Parties in the coalition are allowed to introduce policies of their own, but the policies must not deviate from the above agreements, according to the MFP leader.
The original version of this article appeared on our sister website, The Pattaya News, owned by our parent company TPN media.
*****************************
Don't forget to subscribe to our newsletter and get all our news delivered to you in one spam-free daily e-mail Click here! OR, enter your e-mail below!
Help support The Phuket Express in 2023!