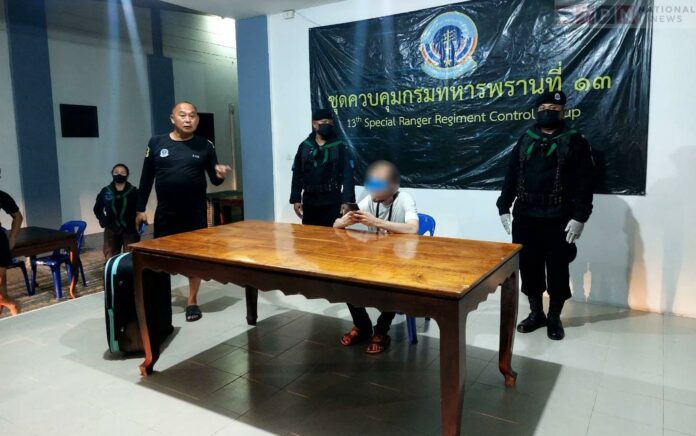 Bangkok –
The foul odor from a Polish suspect, who allegedly murdered a Ukrainian woman, caught staff's attention at a restaurant in Bangkok and helped lead to his arrest.
In addition, the smell also caught the attention of a clever border dog who alerted his handlers and helped stop the suspect before crossing the Thai border to Cambodia.
Our previous story:
The Wat Phraya Krai Police told TPN media that they were notified of the horrific incident at a condominium in Bang Kho Laem on Monday (May 15th).
Now for the update:
CCTV footage, at a restaurant near the condominium in question in Bangkok, showed the Polish suspect ordering food. An unidentified staffer at the restaurant told local media that the suspect was carrying a bag containing an object that resembled a saw. The staffer smelled a very strong foul odor from the suspect, and he looked unkempt, with the staffer suspecting at first he was possibly destitute.
The Polish suspect, Jan Jerzy Lagoda Filippow, 25, asked the staffer using Google translate "Where can I find a woman. I want to have a girlfriend." However, he looked disgruntled, the staffer added.
It is believed that the suspect had just allegedly killed a Ukrainian woman, Alona Savchenko, 25, before he bought the saw and then stopped at the restaurant. The restaurant staff suspected something was off with the suspect and contacted local authorities.
A Polish man was arrested near a Thai border in Sa Kaeo after he allegedly killed and dismembered a Ukrainian woman at a condominium in Bang Kho Laem.
Later, when the suspect attempted to escape to Cambodia via Sa Kaeo, a military working dog in the Burapa Military Command Center was drawn to the suspect. The dog named 'Judy' sniffed near the suspect and made it clear to his handler there was something suspicious about the man when he was nearby; the dog's handler, Captain Thaworn, said to the media, "I followed my dog and noticed a suspect which I saw possessed luggage similar to the suspect in the recent news. I contacted the Immigration Head Office to see the suspect's face and identified him positively."
Shortly after, Lagoda was arrested, as we covered in depth below.
A Polish suspect who was arrested after he allegedly killed and dismembered a Ukrainian woman at a condominium in Bangkok has refused to say anything to Thai police and the media.
-=-=-=-=-=-=-=–=-=-=-=-=-=-=-=