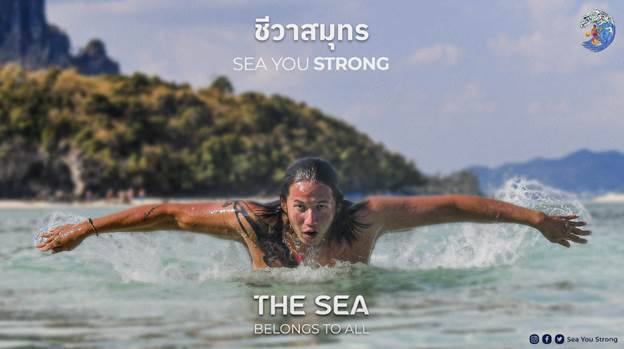 Press Release
Bangkok, 26 April 2023 – The world-famous scenery of the Andaman Sea is the backdrop to an historic ocean conservation event titled "Sea You Strong: Stop Abusing the Sea" to take place 28-29 April in southern Thailand. The awareness-raising event is led by Psi Scott, who will be swimming 70 kilometers across the Andaman Sea, accompanied by 36 volunteers. The demanding and potentially record-setting swim will take the team from Krabi to Phang Nga to Phuket, and will stream on Facebook Live.
This swimming adventure was conceived by Sea You Strong, a Non-Governmental Organization (NGO) focused on preserving and protecting marine ecosystems. This Andaman event aims to increase awareness about the importance of marine conservation, to reduce plastic pollution in our oceans and, as organizers say, "call for justice and return nature to the sea."
Unlike other events of this kind, the mission is not to solicit donations, but rather to inspire the public to develop a spirit of ocean conservation and inspire collective action towards creating a sustainable future for the planet. The Sea You Strong team is a small but accomplished one, having actively participated in cleaning beaches, cliffs, and various bodies of water, as well as removing all types of waste, particularly plastic pollution.
With the involvement of Psi and the volunteer swimmers, the Sea You Strong team see this cross-provincial challenge as helping to highlight the hazardous impact of plastics on marine life. The NGO points to these threats as especially worrisome:
Plastic pollution significantly impacts marine life and the environment. Marine animals often mistake plastic for food, leading to ingestion, entanglement, and death
Plastic pollution also poses a significant threat to the environment. As plastic debris breaks down into smaller particles called microplastics, they can permeate the food chain, making their way into the bodies of larger marine animals and, eventually, humans
Microplastics have been found in seafood, salt, and even tap water, raising concerns about potential health impacts on humans, although research in this area is still ongoing
"Ocean conservation is crucial for the future of our planet because oceans play a vital role in supporting life on Earth. They regulate the climate by absorbing and redistributing heat, produce more than half of the world's oxygen, and provide a critical habitat for a diverse range of species" Psi Scott, founder of Sea You Strong.
Psi Scott, the leader of this historic swim, and who many locals call "Aquaman," is known for his participation in the short film "Merman: Ocean Pollution." Indeed, the 26-year-old has been involved in marine projects for many years. Psi is excited for the upcoming Project Sivasamut since, if the challenge is met, it would set a national record for individual and team distances.
Psi encourages supporters to log in to Facebook Live to participate in the event and share it with friends, as it streams during the two-day adventure. He adds "three years ago, I was standing and collecting garbage on the beach above the canal in Krabi. Since then, we have worked together with three provinces that we love. I want to make everyone proud with this event and give Thailand a chance to see and experience the similarity between sea animals and humans in this swim"
——————————————————————————-
About Sea You Strong the NGO, and the Event
Sea You Strong is an NGO consisting of a passionate team dedicated to raising awareness of marine conservation by collecting rubbish and by cleaning beaches, cliffs and bodies of water.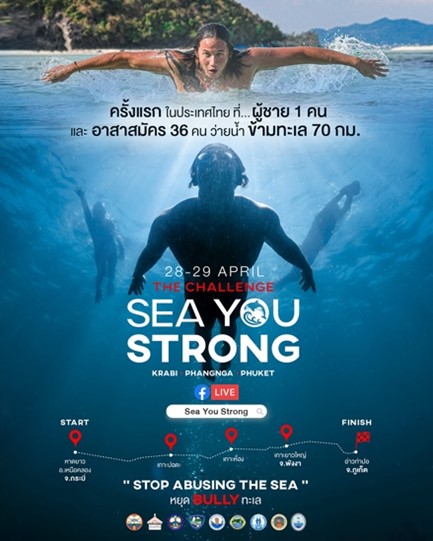 -=-=-=-=-=-=-=–=-=-=-=-=-=-=-=
Help support The Phuket Express in 2023!