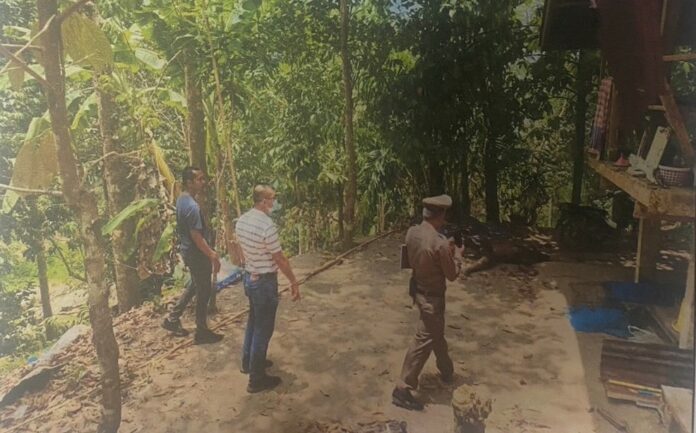 Thalang –
An intoxicated man beat his friend to death while they were drinking alcohol near a reservoir in Thalang. The murder was reportedly after the victim made a rude comment to the suspect.
The Thalang Police told the Phuket Express that they were notified of the incident on Sunday (April 23rd) near the Bang Naew Dam Reservoir in Baan Manik, Sri Soonthorn.
Police, rescue workers, and the Phuket Express arrived at the scene at a rubber plantation to find the body of a man covered in dried blood near a small hut. No identification card was found with him. Police believed that the man died at least two days before his body was found.
Investigators were called to the scene to determine the identity of the deceased and local villagers were called to the area to answer questions.
Local residents nearby later told investigators that the man was named Mr. Tham, aged around 40 and he was originally from northeast Thailand.
On the same day, a local took a suspect, Mr. Taksin Ponwong, 49, to the scene to speak with investigators after the unidentified local villager said he saw the suspect hanging out with the victim several days before.
Taksin admitted to police that he used an iron bar to hit Mr. Tham in the face.
Taksin stated that he and Mr. Tham had been drinking together on the rubber plantation several days before the body of Tham was found when Mr. Tham insulted him.
Although Tham claimed the insult was just banter and a joke, Taksin said he was enraged by the comment and subsequently beat Tham to death with a nearby iron bar. The exact comment was not shared by Taksin.
The Thalang Police told the Phuket Express that Taksin is facing charges of bodily harm causing death and plans to plead guilty.
-=-=-=-=-=-=-=–=-=-=-=-=-=-=-=
Help support The Phuket Express in 2023!