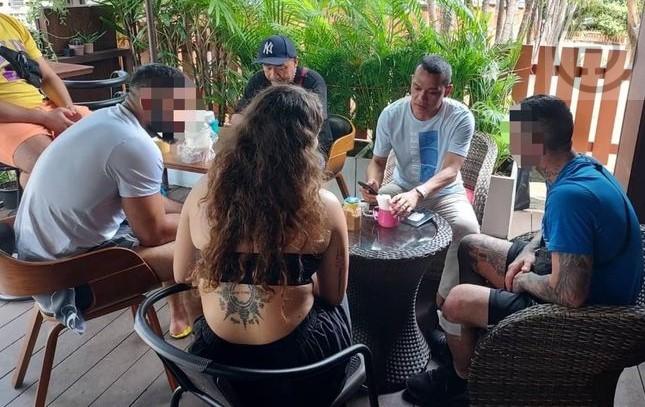 Patong –
Three foreigners who were involved in fighting at a bar/restaurant in Patong have been fined 2,000 baht each.
Our previous story:
A wild brawl involving both foreign staff of a bar/restaurant and foreign tourists went viral in Phuket, Thailand.
An Australian customer has been arrested after being involved in fighting with the foreign staff of a bar/restaurant in Patong.
Now for the update:
The Phuket Provincial Police told the Phuket Express that three foreigners involved in a fight that went viral on social media, who were two legally employed reataurant staffers identified only as Mr. ALOMARI, 25, Jordanian national, and Mr. Ahmed, 26, Egyptian national, and the customer, Mr. Karen, 34, Australian national, admitted to the assault charges.
They have all been fined 2,000 baht each and apologized to each other and Phuket officials over the incident. Mr. Karen admitted that he started the dispute by throwing a bottle at the two restaurant staff members because in his opinion they were taking too long to make his meal. Mr. Karen also stated that he was heavily intoxicated and this behavior was out of character for him.
The Phuket Express noted the Phuket Provincial Police did not mention if these three were sent to the Phuket Immigration for possible yellow or red cards under a new classification system for misbehaving foreigners being tested in Phuket.
Many comments from prior articles asked how the two foreigners involved in the altercation could be employed at a restaurant as many readers thought this was a protected job.
However, The Phuket Express would like to add that Chef or Restaurant Manager are not protected occupations and it is possible to get a legal work permit for these roles, which according to Phuket police appeared to be the case.
***************************