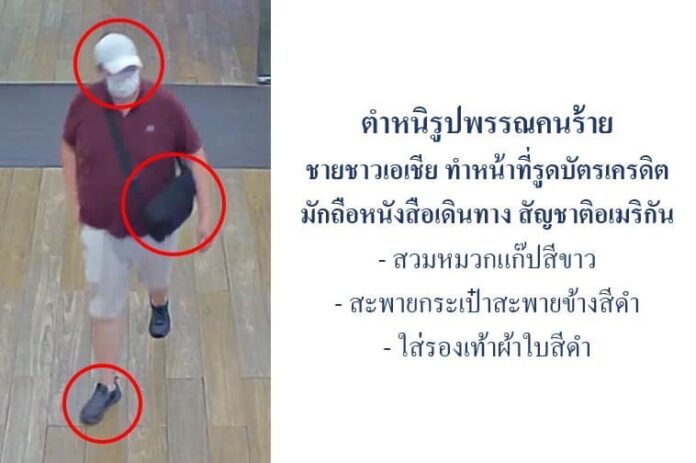 Phuket-
A group of foreigners are allegedly using other foreigners stolen credit cards to buy high priced products in Phuket.
The Patong Police told the Phuket Express that a group of foreigners are using other foreigners stolen credit cards to buy high priced products such as gold jewelery worth about 1,200,000 baht and new iPhones.
The scam involves the suspects showing fake passports to vendors which match the credit card info. The suspects always wear hats and a mask, stating the mask is for Covid protection if asked, hiding their face.
The suspects also usually buy the products just before the shops closing time when vendors are in a rush to close their venue and go home and less likely to follow every security process.
Phuket Police stated:
Vendors must be more careful by checking below:
Be careful when checking a passport ( Do not accept a copy passport paper) with a credit card. The full name and signature on the credit card and the passport must be the same. Make sure that the buyer's face is the same on the passport and ask the buyer to briefly show their face for security reasons.
Buyers should show details to the vendors on a mobile application that connects with a credit card or SMS sent to their mobile phone when purchased.
Vendors should ask for buyers details about where they stay and contact the accommodation to see if the mobile phone numbers they have given are the same.
These suspects are Asian men but holding possibly fake American passports, wearing white caps and a mask, carrying a black bag, and wearing black shoes and have hit many shops in the Phuket area, say police.