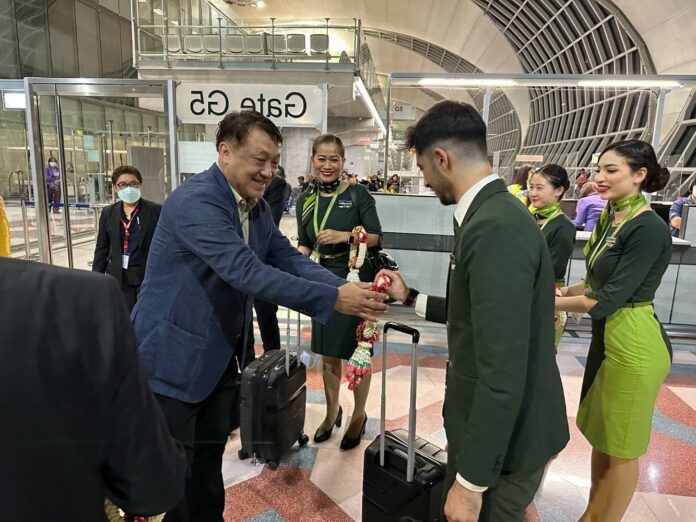 Bangkok, Thailand-
Led by Minister of Public Health and Deputy Prime Minister Anutin Charnvirakul, multiple government agencies agreed in principle this afternoon, January 5th, 2023, to more stringent Covid requirements for visitors to Thailand.
It's important to note, however, that the agreements are essentially proposals still and need Thai Cabinet approval before becoming policy. This is by no means a certainty. This may come in the next several days, as the Thai Cabinet generally meets every Tuesday.
The new proposals are in response to China opening up its borders for the first time in three years and relaunching tourism. However, there are significant concerns from some medical sectors of the ongoing Covid breakout in China which could potentially raise cases in other countries.
Anutin, however, has continually said that Thailand should not single out China individually for further Covid restrictions and measures as he feels that would be discriminatory. Therefore, measures discussed by multiple agencies today including health ministries, transportation and tourism industries, insurance offices, and more met to discuss guidelines for all international tourists, not just Chinese.
The proposals made today were that all international travelers must provide proof of at least two Covid-19 vaccinations and that travelers whose home countries require Covid testing for travelers to return must have insurance that covers Covid.
China will require an RT-PCR Covid test to return so this latter proposal would affect Chinese travelers. It would also affect Indian tourists whose government recently started requiring a Covid test to return, a move that tourism leaders has said has led to many cancelled trips and postponements from Indian tourists.
TPN media notes that the measures above are proposals still and as a result no firm set date or specific information around how to prove the requirements or what specifics around proof of insurance or vaccination is needed yet exists. It is unclear if the measures are passed by the Thai Cabinet if an alternative way of entry for unvaccinated tourists would be provided.
One possible solution for unvaccinated travelers to Thailand reportedly discussed by Thai medical officials was the ability for travelers to purchase a vaccine or booster upon arrival in Thailand, but it is unknown if this would be a final policy either. Thailand is also encouraging, but not mandating, all staff in the tourism industry to have at least four Covid vaccine shots before Chinese tourists begin to return in earnest.
Meanwhile, Tanes Petsuwan, a Deputy Governor with the Tourism Authority of Thailand, told Bloomberg media that proof of vaccination will not be required at this time, adding to confusion from many potential travelers. As already noted by TPN, the measures discussed are only proposals and none are set in stone or have any concrete information around them.
This story will be monitored closely by our reporters over the next week as it continues to develop.
The original version of this article appeared on our sister website, The Pattaya News, owned by our parent company TPN media.