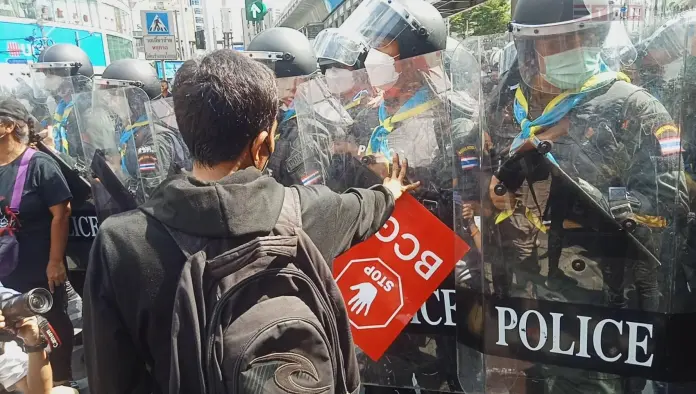 Bangkok –
  Thai Riot Police fired rubber bullets at protesters after they were trying to break their lines at the Democracy Monument in Bangkok earlier today.
 Our previous stories:
Public gatherings are banned during the APEC summit at a convention center and 19 hotels in Bangkok.
The youth-led, anti-government group, Ratsadon, announced on Wednesday that they would march from Bangkok's City Hall to the APEC summit venue on the morning of November 18th to protest the meeting.
Now for the update:
From 9:00 A.M. this morning (November 18th) protesters gathered at the Democracy Monument preparing to move to the APEC 2022 Summit area at the Queen Sirikit National Convention Centre.
Thai Riot Police lined up to block protesters before announcing that protesters are offending the Public Assembly Act. They were asked to go back to Lan Khon Muang, a designated protest site.
Protesters tried to push and crash through the line of Riot Police multiple times, without much success. Rubber bullets were fired to stop protesters. It has been reported that at least eight protesters were arrested, at least five were injured and at least five Riot Police were injured this morning alone. One reporter from Reuters was hit by a thrown glass bottle and suffered a serious eye injury.
This is a developing story.