National –
The average statistics of suicides among Thai people have increased by 500 to 1,000 people per year in the past five years, the Department of Mental Health revealed on Thursday, September 8th.
Spokesperson Dr. Warot Chotipittayasunon stated during a mental health online panel discussion that the number of people committing suicide had increased by as high as 1,000 people per year in the past five to 10 years. About 5,000 people committed suicide in 2021 alone.
TPN notes that 2021 saw an average of eight months of extended Covid19 restrictions, quasi-lockdowns, forced business closures, mandates, and other measures that decimated many sectors of the Thai economy such as tourism, hospitality, construction, events, MICE, culture, sports, entertainment, retail, and more.
It was found that the most common reason for suicide is relationship problems, followed by physical health conditions, alcohol problems, and economic problems. 90 percent of those who committed suicide were caused by more than one problem but relationship problems were the main factor.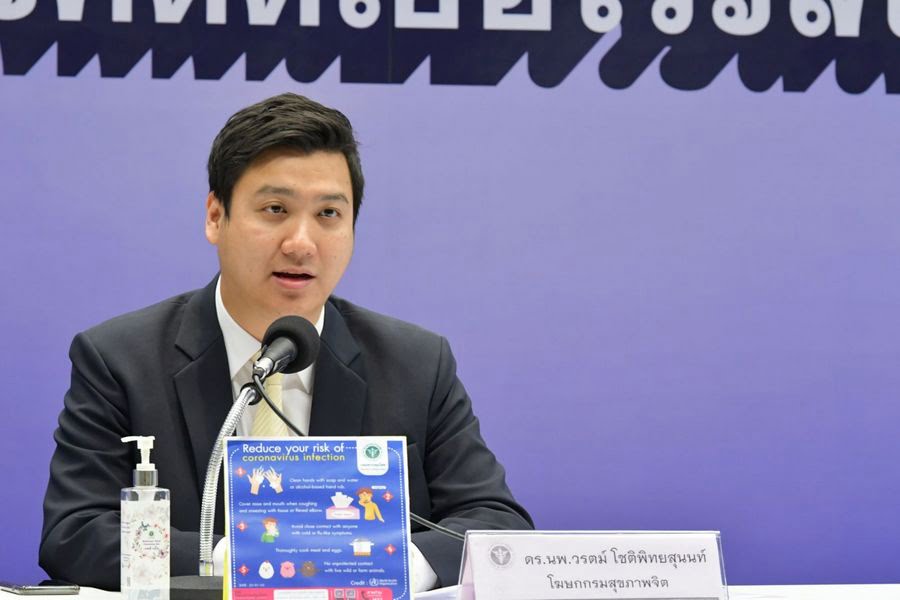 While the number of people suffering from mental health is increasing, the number of medical experts and personnel is still limited.
The spokesperson added: "There are less than 200 child and adolescent psychiatrists while there are about 1,000 psychiatrists and 1,000 psychologists in Thailand. And it could take 5-10 years in order to increase the number of mental health professionals. A traditional treatment at a hospital may not be effective anymore, so mental health problems are a concern for everyone."
"In the past two years, the 'HOPE Task Force' or the Special Operations Suicide Prevention Team has saved more than 400 people who attempted suicide, making it the world's first non-suicidal measurement. However, when compared to the increasing suicide rate, protection is everyone's duty. Therefore, building strong cooperation to prevent suicide in the communities is urgently important."
Orapin Wimonphusit of the Sustainable Alternative Development Association (SADA) continued that another concerning group was the working-age population as the group is likely to commit suicide the most, according to previous statistics with 74 percent being working people aged between 25 and 59 years.
She said: "The working-age group has become the most at risk group at the moment that the state and society should pay close attention to and provide knowledge or procedures to enhance mental health and financial health for the group in Thailand, whether it's national policies or strategies that can be included in the National Health Security system in order to maintain their physical health."
The original version of this article appeared on our sister website, The Pattaya News, owned by our parent company TPN media.
-=-=-=-=-=-=-=-=-=-=-=-=-=-=–=–=–=–==-
Need Covid-19 insurance for your next trip to Thailand? Click here.
Follow us on Facebook
Join us on LINE for breaking alerts!