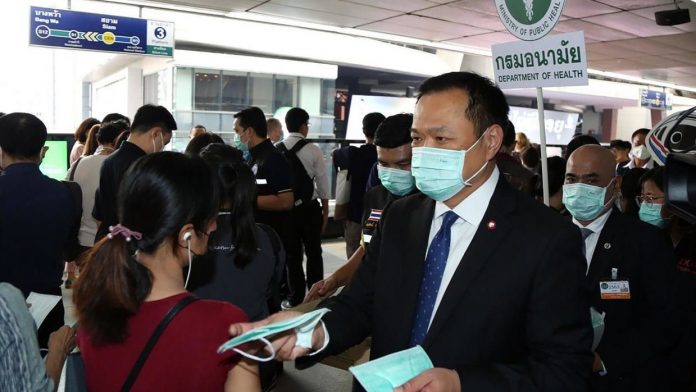 National –
  Public Health Minister Anutin Charnvirakul revealed today, June 8th, that no announcement of a mask mandate cancellation, which currently includes even all outside areas, will be made even though Thailand is approaching the endemic disease period.
However, it is up to the individual consideration to wear or remove it, depending on the situation and areas they are in, according to Anutin.
The Minister stated during the event "Move on from Covid, live confidently" in Bangkok this morning that the Covid-19 situation in Thailand is likely to improve as can be seen from the steadily decreasing number of infections and fatalities. The daily number of new cases is less than 3,000 and the number of deaths is below 30 daily for three consecutive weeks. This is because people are cooperating with the health ministry's recommendations, according to Anutin.
However, when the disease becomes endemic in Thailand, the severity of the disease will remain at the same level. Redefining Covid-19 as endemic will only make people familiar with it and behave themselves under a mutual understanding of the disease.
Anutin told the press: "The government is trying to return the normal way of life to Thai people as much as possible. Masks can be removed, and many establishments now reopen. No more regulations are our goal. But we have to understand each individual situation as well. If they are in a place where there is a risk, then masks are highly recommended."
"If asked whether the mask mandate will become a law, I'm afraid there might not be such announcement. Whether people want to wear it or take it off, it all depends on individual assessment of the situation with the knowledge we have experienced."
TPN notes that the mask mandate currently falls under Emergency Decree health measures, currently extended until at least the end of July and in effect since early 2020. Presumably, when the emergency decree goes away, the mandate "quietly" will as well, based on the Health Minister's statements today.
Mask mandates have been a major discussion recently in Thailand, for more information please click here.