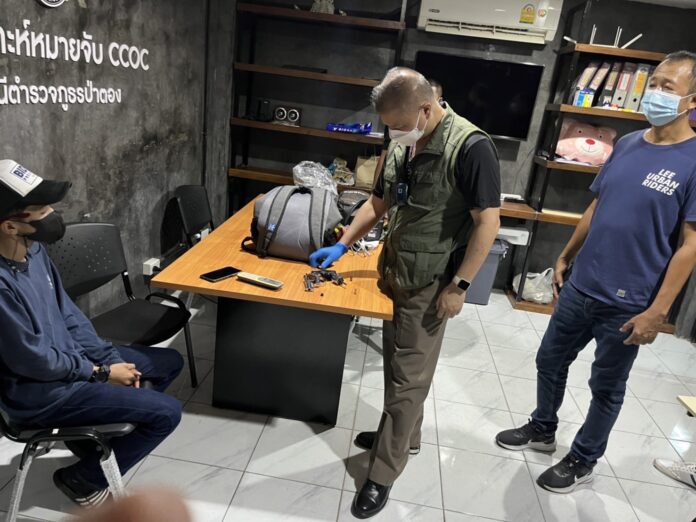 Patong, Phuket –
  A staffer at a 'restaurant' on Bangla Road (Soi Bangla) in Patong has surrendered himself yesterday (April 22nd) after he allegedly used a gun to threaten a foreign tourist.
The Patong Police was notified of the incident at 5:00 P.M. yesterday. The Patong Police, TPN reporters, and the Phuket Tourist Police arrived at the scene.
Staffers at the resturant told police the suspect was named Bank and was arguing with a foreign tourist, although the nature of the debate was not at first clear. According to witnesses, Bank used what appeared to be a firearm to threaten the tourist before running away from the scene, leading the tourist to call the Patong police. Police inspected CCTV at the scene of the incident and reportedly confirmed the series of events reported by witnesses as accurate
At 7:00 P.M. on the same day, Mr. Kittipong "Bank" Janthawong, 25, the suspect, presented himself to the Patong Police with a blank/stunt gun and a cartridge with blank gun bullets, stating the weapon wasn't "real" and was just a prop.
Bank told Patong police, "I was standing in front of the restaurant where I worked. I tried to persuade and invite the foreign tourist into 'the restaurant'. The tourist refused to enter the venue and said rude statements, which led to an argument. I was offended by the tourist's rude and demeaning insults and took out a prop/stunt gun. I didn't want to hurt the tourist, only scare him and make him feel bad for insulting someone just trying to do their job."
The Phuket Provincial Deputy Police Commander Colonel Peeraphol Chaiarun who is now the Acting Patong Police Chief told The Phuket Express reporters that Mr. Kittipong is facing charges of causing a public disturbance and threats of violence with a weapon.