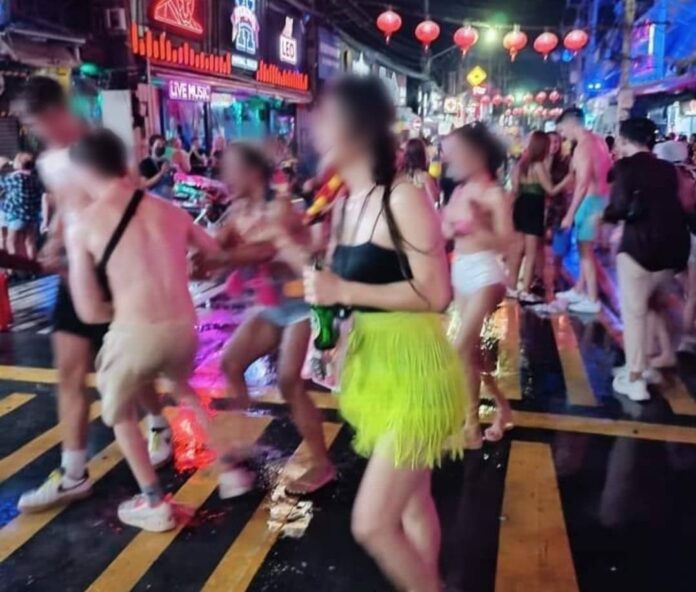 National – 
Bangkok municipal officials warned vendors on Khaosan Road of getting fined up to 100,000 baht for letting people play with water while a pro-democracy political group gathered at Khon Kaen
to symbolically pour water on the PMs portrait earlier this week.
The famous Songkran water fights were banned this year for the third year in a row due to concerns from health officials around Covid-19.
Yesterday, April 13th, Khaosan Road appeared to revert to its pre-Covid-19 Songkran atmosphere with hundreds of Thais and foreigners roaming the street and playing with water during the evening. However, Bangkok municipal officials arrived on a police truck to patrol the area and asked people to stop their activity as the water-fight bans are still in effect, trying to put a halt to vendors selling water guns and people playing music, drinking alcohol, and splashing.
The officials pleaded with people to obey the CCSA (Center for Covid-19 Situation Administration) Covid-19 regulations of no water playing because it may cause a new spread. For the vendors who disobeyed the regulations, they would have their photo taken as evidence of a violation and fined up to 100,000 baht, said the officials. 
According to Mr. Sanga Ruangwattanakul, 56, President of the Khaosan Road Business Association, he revealed to associated reporters that Khaosan Road was not officially open for water splashing, but people just naturally came to play on their own. When asked if he was concerned about the warning, Mr. Sanga replied he was not. In fact, all vendors on Khaosan Road have already received SHA (Safety & Health Administration) approval, and the authorities should instead promote Khaosan Road as a source of entertainment and encourage tourism.
Bangla Road in Phuket had a similar situation and although both areas were still crowded with tourists today, April 14th, there was a heavy police presence and little water throwing compared to April 13th.
Another Songkran activity took place yesterday, April 13th, at Khon Kaen Democracy Monument, Srichan Road, Khon Kaen Municipality, by a pro-democracy political group led by Mr. Atthaphon Buapat. Participants reportedly brought buckets of water, water guns, and the portraits of PM Prayut Chan-o-cha and Deputy Premier Prawit Wongsuwan to sprinkle water on as a symbolic gesture.
One of the participants said that he wanted to see Thai democracy flourish on this Thai New Year, and today's activity was totally in accordance with the Covid-19 regulations as most people kept their masks on and maintained social distance, so he was not worried.  
=-=-=-=-=-=-=-=-=-=-=-=-=-=–=–=–=–==-