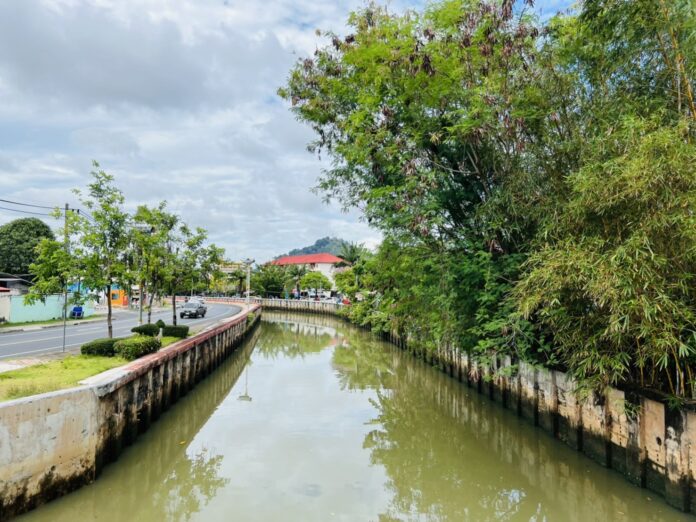 Bang Yai district, Phuket-
  The areas between Ko Chan bridge to the floodgate of the Phuket municipality on Bang Yai canal will be renovated as a new floating market to support tourism.
Mr. Sommit Somboon, the Public Works and Town & Country Planning official, said Phuket city intends to renovate the areas between Ko Chan bridge to the floodgate of the Phuket municipality as a floating market. Now the design process has already been completed, and the budget request will be discussed in the next one to two months.
Regarding the project's details, the canal's banks and bottom will be reinforced and the surrounding area will be refurbished with lights, railings, and footpaths. To cross the canal, a new bridge will also be installed, and once completed, the Bang Yai canal is expected to be a new tourist attraction of Phuket which may even resemble the Cheonggyecheon canal of Korea, according to the official statement. The anticipated sum of the project is 60 million Baht.
Historically, the Bang Yai canal is regarded as the imperative source of water of Phuket which flows from Kathu district to the Phuket municipality (over 20 kilometers in length). Also, it is a home to a richly diverse community such as Chinese, Portuguese, and Malaysians who have inhabited alongside the canal banks and have formed good commercial relations with Phuket residents for a long time.
TPE notes that a set timeline for when exactly construction, renovation, and the completion of the canal would be done was not yet set and would not be until upcoming budget requests were finalized.
=-=-=-=-=-=-=-=-=-=-=-=-=-=–=–=–=–==-