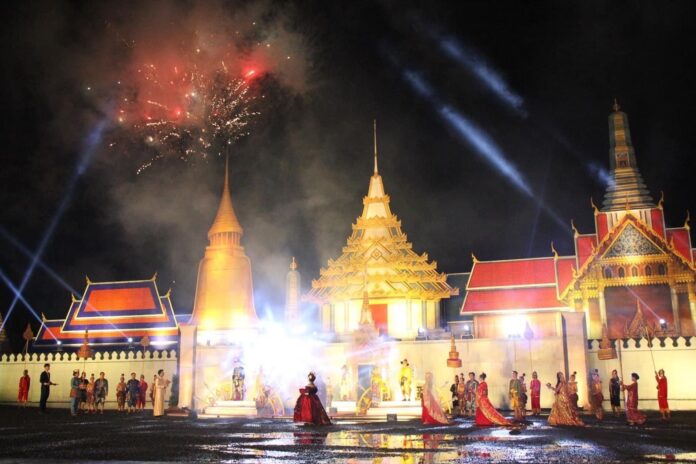 Phuket, Thailand-
On Sunday, the 13th of March 2022, Mr. Rewat Areerob, PPAO chief executive, gave an opening speech for the historical drama of Thep Kasatri and Si Sunthon during the "237th anniversary in honor of two heroines of Thalang" with Mr. Narong Woonciew, Phuket Governor, presiding over the event at the heroine's monument. Many authorities and Phuket residents came to enjoy this event including Jariya Anfone, a famous Phuket-born actress, who also came and performed in the drama.
"This historical drama of Thep Kasatri and Si Sunthon is held to honor and remember the goodness of the two heroines and ancestors of Thalang who fought and sacrificed themselves with bravery and unity for the sake of our land on which, we reside peacefully till these days. More importantly, today (the 13th of March) is considered the day of victory for the Thalang people as our ancestors were able to protect Thalang from the enemy and fought the Nine Armies War on 13th March 1785 during the early Rattanakosin reign," said Mr. Rewat.

"Therefore, today in 2022 is the 237th anniversary of the Thalang victory, the day of peace for every Phuket resident. Regarding the glorifying event, it consists of many flamboyant shows and historical dramas that will last from 13-15 March 2022 at Thalang Victory Memorial Field under the concept "Thalang The Old Town Of The Brave". There are many activities such as local performances, the selling of various products from Phuket, delicious food, and a lot more."
Phuket Governor Mr. Narong Wun Siew said that "Phuket province, Phuket PAO, Provincial Cultural Office, Thao Thepkasattri Thao Sri, and Sunthon Foundation have come together to organize this event."
"As widely known, Phuket promotes tourism by presenting its local way of life, histories, the goodness of the two heroines and ancestors to provide the visitors with an insight into its great history and valuable cultures so that more tourists will come and aid in boosting local businesses. Also, it intends to ingrain patriotism, dignity, and gratefulness for the country within its children and people so that they will help sustain prosperity for Phuket.
We would like to thank those involved for making this anniversary happen every year to honor Thep Kasatri and Si Sunthon and enhance the cultural tourism of Phuket, allowing the community to partake in local development with the collaboration from Phuket PAO and other organizations," said Mr. Narong.
=-=-=-=-=-=-=-=-=-=-=-=-=-=–=–=–=–==-